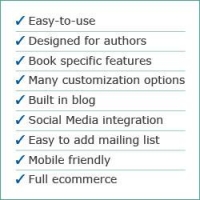 Popular Topic:
Recent Posts
Pub Site Help
Pub Site Help is the Support Knowledgebase for Pub Site Authors and anyone interested in creating and launching a website with
Pub Site
. If you have a Pub Site-related question and want to know more about our features and usability, this is the place to be! Chances are, someone has already had the same question as you, so browse our help articles by Topic, Search using the search bar above, and check out our
Blog
,
Helpful Tools
, and
How-to Videos
.
If you're wondering "What is Pub Site?", we are the new, easy-to-use website builder designed specifically for books and authors. Easily add bookseller links, social media, author tours, blogging, and even ecommerce! Have a professional looking website up and running within hours. Sign up for a
14-day free trial
with no credit card required, and
build a site for FREE!
Only $19.99 a month thereafter, which includes hosting, platform updates, and support. Head over to our
website
to read
Reviews
and check out our
Portfolio
of author websites.